CHARLOTTE – After a week of joint practices in New England, the Panthers take on the Patriots on Friday, Aug. 19, at 7 p.m. ET.
There are a number of ways that fans will be able to follow Friday's game from local television affiliates to NFL Network to streaming on the Panthers app and Panthers.com in market. See below for more:
Panthers vs. Patriots – WATCH ONLINE – FUBOTV / TV
TELEVISION BROADCAST IN MARKET: Panthers fans can watch on their local affiliate networks if they are in the market areas listed below, including WJZY in Charlotte.
On The Call: Taylor Zarzour, Steve Smith Sr., Kristen Balboni
TELEVISION BROADCAST OUT OF MARKET: NFL Network will broadcast Friday night's game nationally. That broadcast is subject to blackout in local markets.
Table inside Article

| City, State | Station | Network |
| --- | --- | --- |
| Augusta, Ga. | WJBF | ABC |
| Charleston, S.C. | WCSC | CBS |
| Charlotte, N.C. | WJZY | FOX |
| Columbia, S.C. | WACH | FOX |
| Florence/Myrtle Beach | WBTW | CBS |
| Greensboro, N.C. | WFMY | CBS |
| Greenville, N.C. | WITN | NBC |
| Greenville/Spartanburg, S.C. | WYFF | NBC |
| Raleigh, N.C. | WRAL | NBC |
| Roanoke, Va. | WDBJ | CBS |
| Outer Banks, N.C. | WVEC | ABC |
| Savannah, Ga. | WJCL | ABC |
| Wilmington, N.C. | WSFX | FOX |
WATCH ON MOBILE/APP
Links for streaming will be available at the start of the game at the top of Panthers.com and the app.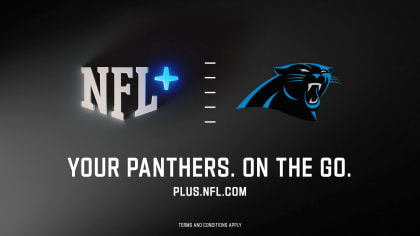 LISTEN LIVE – Panthers vs. Patriots
On The Call: Anish Shroff, Kurt Coleman, Jim Szoke, Kevin Donnalley
The Panthers Radio Network features eight hours of game-day coverage, beginning three hours before the game and concluding with two hours of wrap-up reaction and postgame analysis.
Click here to listen to the radio broadcast live online, starting at 4 p.m. ET on Friday. The broadcast is available nationwide on desktop computers and in the Charlotte region on mobile phones. It is also available in the Panthers app by clicking the Live Radio icon on the top of the home screen.
SOCIAL MEDIA: Follow the Panthers for live updates and behind-the-scenes content during the game.