Back at it: Pat Freiermuth has been working his way back into action after the tight end missed time with a hamstring injury during camp.
Freiermuth is happy to be back on the field, headed in the right direction.
"I feel real good. I am getting back into it," said Freiermuth. "Knocking some rust off. But I feel good and ready to go."
It wasn't just his return to the field he was talking about on Wednesday though. He explained a much more pressing topic.
The competition periods between the offense and defense which results in who eats better at dinner daily.
"Whoever wins the seven shots or competition period they get to eat good that night," said Freiermuth.
Monday and Tuesday it was the offense that enjoyed the finer foods at dinner, but the defense turned things around and won on Wednesday.
"It's good incentive," laughed Freiermuth. "It's food. All of us like food here."
Games matter: After an offseason that included OTAs and minicamp, and now into their third week of training camp, the Steelers finally get to hit the field on Saturday night at Acrisure Stadium against someone other than their own teammates.
The Steelers will host the Seattle Seahawks in their preseason opener, with kickoff at 1 p.m., and it will be the first opportunity for the quarterbacks to show what they have in a game situation as there is a competition for the starting spot.
"You're always trying to prove yourself, every chance you get," said Mason Rudolph. "It's one thing to do it in practice, it's another thing to do it in a stadium. We have a lot of young guys, and I am excited to lead those guys and make them feel comfortable out there."
Rudolph said you want to perform your best every day, whether it's a game or practice, but game performance definitely carries extra weight.
"Games are more important," said Rudolph. "You always want to have an impressive collective body of work, but games are more important. Games are games."
Reunited: Two former teammates in the Steelers backfield, Merril Hoge and Tim Worley, were at practice on Wednesday, spending time visiting with each other and taking in the morning session.
The pair were scheduled to take part in some events on campus that got changed because of the weather, but wanted to spend time visiting with each other so both still came to practice.
"The only reason I came here is because Tim Worley. I haven't seen him forever," said Hoge. "Tim Worley was a great teammate. He was a great teammate. I love the guy. Whether I was running the ball, or he was running the ball, he was as happy for me as he was for him. You don't get many teammates like that.
"I wanted to see practice too, but seeing Tim was why I came."
This was Worley's first time back at Saint Vincent College since his playing days, and he was enjoying the atmosphere.
"I thought it was time," said Worley. "Coming back here, being around an organization that was very good to me, seeing some of my old teammates, it means a lot. This means so much to me. I am so excited. When I got in town and came through the tunnels and saw the stadium, the same feeling that came over me when I came here for the first time my rookie year came over me. I am thankful to the Steelers organization for allowing me to come here and see some old friends and the new players."
Light on their feet: Coach Mike Tomlin always preaches to his players about being light on their feet.
Well, this training camp they have had to be lighter than ever.
For the fifth straight day there was a change in the practice schedule, with Wednesday's afternoon practice being changed to a morning session at Saint Vincent College.
Staying hot: When Coach Mike Tomlin yells out a player's name or number in practice, sometimes it can be a good thing, sometimes not so good.
But when Tomlin yells, 'Stay hot, 5-0,' it's not so bad.
And it's something linebacker Delontae Scott appreciates.
Scott is in a battle at outside linebacker for a roster spot and getting that shoutout from Tomlin is nothing but good.
"We are all out here competing," said Scott. "It's a high-level competition. I always try to make sure I keep doing what I can, showing my abilities and what I can do on the field. If Coach T is peeking in, I appreciate it. We still have to work here every day."
Scott, who was signed by the Green Bay Packers as an undrafted rookie free agent following the 2020 NFL Draft, signed with the Steelers following the 2021 season. He is taking advantage of every rep he is getting in camp, working to live up to the standard that Tomlin has set for the defense.
"Just what they say about Steelers defense in general," said Scott. "Just playing here is a huge blessing, especially for a guy who plays linebacker. Coach says the standard is the standard. When you have teammates like T.J. (Watt), that is the standard, and you have to make sure you match his intensity when we play. That is how the whole group is.
"As long as I come in and keep working, work on stacking good days. We have a great group of guys. We're all competing. I do feel like I have a chance, but it all depends on how everything works out.
"I always believe in myself and continue to work, trust the process and never get down on myself."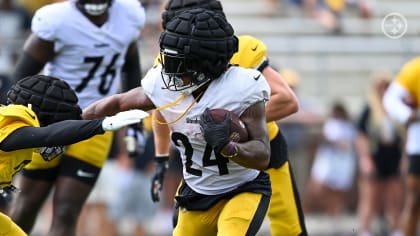 Nothing new: Coach Mike Tomlin always preaches to his players about being light on their feet.
Well, this training camp they have had to be lighter than ever.
For the fourth straight day Mother Nature impacted practice, with Tuesday's afternoon practice being changed to a morning session at Saint Vincent College.
"It's been crazy, but Coach preps us, be comfortable in uncomfortable situations," said running back Benny Snell. "This is nothing new. This is just a part of the journey. He is the leader, and we are the soldiers. We just go whenever he tells us to go."
WATCH: Tomlin on shuffling schedule
Rainy days: Leave it to conditioning assistant Marcel Pastoor to have a sense of humor on Tuesday morning after practice got moved up because of the potential of rain in the afternoon.
Pastoor put together a play list for the weight room that ran from 9-10:30 am, when the team took the field, and included only rain songs.
Among the selections, 'Purple Rain,' 'Blame it on the Rain,' 'Set Fire to the Rain,' 'Rainy Night in Georgia,' and appropriately for this training camp, 'I Can't Stand the Rain.'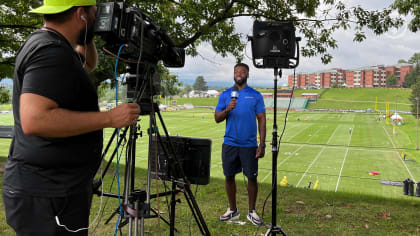 A special smell: There have been a lot of familiar faces at Steelers training camp this summer, the most recent one being former cornerback Bryant McFadden. McFadden, a second-round pick in the 2005 NFL Draft, was a member of the Steelers Super Bowl XL and XLIII teams, as well as on the Super Bowl XV team.
He is at camp doing work for CBS Sports HQ, interviewing players and coaches and taking in the camp feeling again.
"I love being up here," said McFadden. "You really appreciate it more when you are no longer playing. When you come back you appreciate it and miss it to another level. When I first got here, I got out of the car, the grass has a distinctive smell. I don't know what it is. But you love it.
"I have been here a few times covering the Steelers and I love it. What I love is they always treat me like I still play. A lot of players don't have that luxury from their past organization.
"I have great memories here. I was able to be a part of three Super Bowl teams, and two won it all, and that work all began here. These are forever lasting memories. We created that family bond, that togetherness, that started here."
McFadden is focusing on the major storylines in camp for CBS, with the quarterback competition being front and center.
"The No. 1 story is the quarterback," said McFadden. "We know there is a quarterback competition. Then, it's finally seeing a healthy defense and what steps they can take, becoming a dominant unit.
"And finally the leadership. On defense you have Cam Heyward, T.J. Watt, and Minkah Fitzpatrick, but on offense who is going to be that guy who can rally the troops. I am hearing it is Mitch Trubisky. But he is a new guy. I like that he is embracing that role, knowing he plays the quarterback position."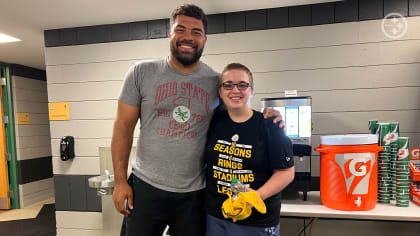 A wish come true: The athletic training staff had an extra helper at Tuesday mornings practice, with Abby Vogelsang pitching in to help fill Gatorade cups and learn the ropes.
Vogelsang, a 17-year-old from Latrobe, was a guest of the Steelers through the Make-A-Wish Foundation. Her wish was to shadow assistant athletic trainer Sonia Ruef for a day of camp, as her dream is to one day be an athletic trainer.
"I love the Steelers and I want to be an athletic trainer when I grow up," said Vogelsang. "It combines my love of sports and wanting to help people."
Vogelsang completed her cancer treatment in April and is currently in remission, and thoroughly enjoyed her day helping the black and gold, especially meeting her favorite player, Cameron Heyward.
"It's been surreal to see the people I see on television all the time right in front of me," said Vogelsang. "I was like 'Oh my God,' when I first saw Cam. Then I thought to myself he is very tall. Getting to meet someone like Cam, being the first person I saw when I walked in the door, I just kept thinking, 'Oh my God.'
Be dominant: Forget trying to figure out the Wordle answer for today.
The true word of the day at Steelers training camp is dominant.
Because if you talk to any of the players on defense, that is what they believe this defense can, should and will be in 2022.
Dominant.
But they have to do it on the field.
"Time will tell," said Cameron Heyward. "We've got some work to do."
Heyward feels the Steelers have the pieces in place that will allow the defense to dominate. But like he said, it's just about doing it.
"We have the defensive player of the year (T.J. Watt), a guy like Minkah (Fitzpatrick), those are your standout pieces," said Heyward. "I like to think we have a lot more than just that. Guys like Devin (Bush), Myles (Jack) and Robert (Spillane) are all capable of being our inside linebackers. Our corner play is going to be good with Levi (Wallace), Ahkello (Witherspoon). The defensive line position, we are pretty deep there. All of that together combines for a good-looking defense."
He isn't the only one feeling that way.
Fitzpatrick has his take on the defense, whether they would be improved or dominating in 2022.
His answer was simple and to the point.
"Because we can be," was the answer.
A little deeper digging, and he just stated the facts.
"Because we've got good players," said Fitzpatrick.
With leaders like Heyward, Watt and Fitzpatrick on the defense, three All-Pros, and a plethora of talent on the defense, their answers make all the sense in the world.
But they also admit, there is work to do, especially regarding the run defense, which was last in the NFL in 2021.
"The run defense," said Heyward of what needs fixed. "Today is one of our challenges. I know we have a lot of short-yardage, a lot of run-sentric drills happening. Even if it's not right today, it has to continue to improve. Even if it is right, it has to continue to improve.
"It's up to the players to hold it down, make sure they are accountable and do what is needed. Too many times it might be 10 people right, one wrong and that hurts the defense. Coaches can only do so much. They give us the playbook, it's up to us to execute it."
And if they execute, they don't need to talk about being a dominant defense with each other. The results will come on their own.
"I don't think we look at it as we need to talk about it, we just need to do it," said Heyward. "At this point some guys are in different stages of their career. But we feel like when we step on the field, we should be the No. 1 defense in that game."
Change of plans: Weather conditions continue to impact the Steelers, who moved Monday afternoon's practice to Latrobe Memorial Stadium, with fan permitted to attend the 1:55 p.m. session for free.
Getting it done: With a lot of youth at the receiver position, including two rookie draft picks in George Pickens and Calvin Austin III, you might wonder how things are running with installing the offense with the group.
According to Diontae Johnson, it's smooth sailing.
"There is a lot of new information they are throwing at us," said Johnson. "We are doing a great job of retaining information and putting it on tape. Coaches don't correct it, it's our job to correct our mistakes."
Johnson, who signed a new contract last week, is continuing with the same work ethic he has had since Day 1, a plan that he hopes eliminates mistakes from his game.
"I am just working on the same things I work on every day," said Johnson. "Catching balls, run after. You can't just focus on one thing. You have to get better at every aspect of your game. That is what I try to work on."
He said it: Tight end Connor Heyward on fellow quarterback Kenny Pickett:
"Each day he is coming in and getting better, being more vocal, being himself," said Heyward. "Kenny has a lot of good qualities as a leader and quarterback. Coach (Mike Tomlin) always talks about getting better and showing growth and he has."
See the best photos from the second week of the Steelers 2022 training camp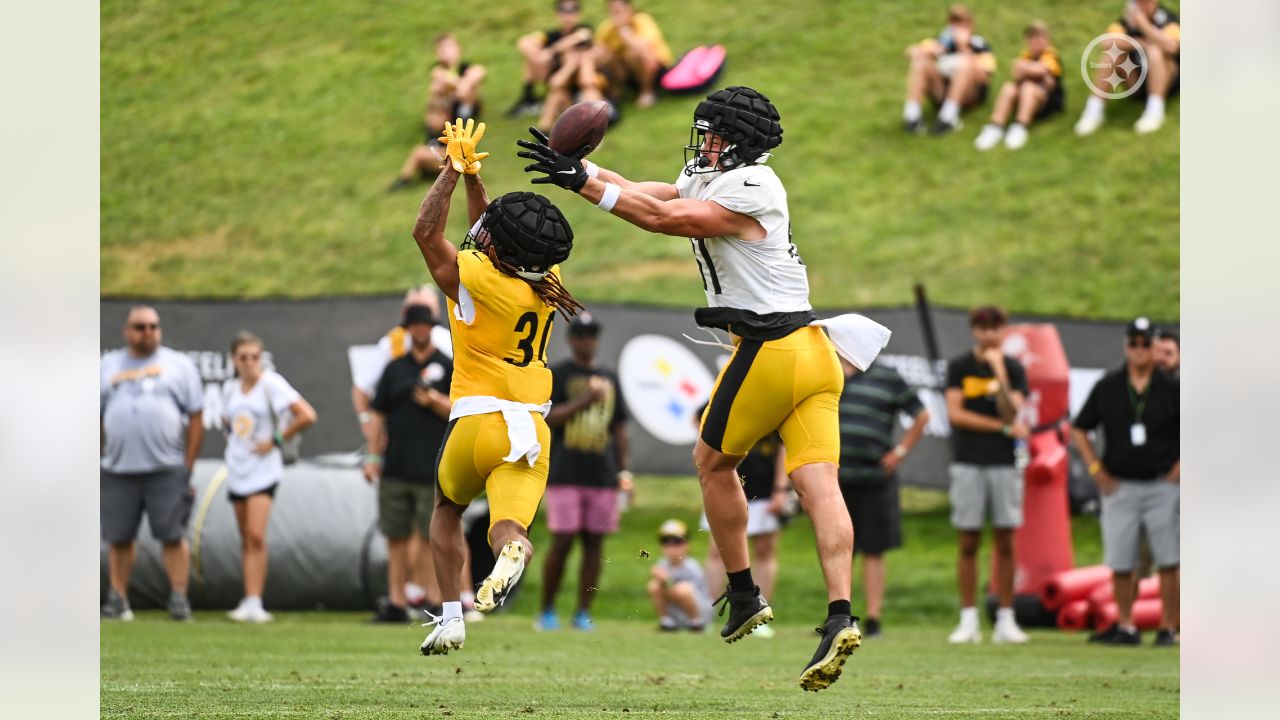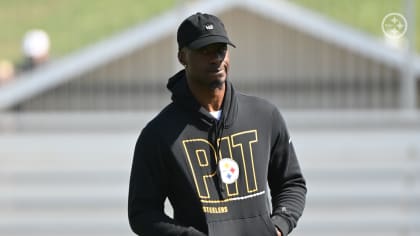 Ike's take: There has been a familiar face on the sidelines and field during training camp this year as former cornerback Ike Taylor is assisting the scouting department, getting a feel for the business while at the same time giving his take on defensive backs.
"I am evaluating college defensive backs, evaluating the defensive backs out here, just giving my two cents," said Taylor. "We are watching film and I give my opinion on what I think a defensive back should look like. They are giving me players to evaluate too. I am just trying to help out the organization."
While he was playing, Taylor would often make his way back to the scouting room at the UPMC Rooney Sports Complex and watch film with them, getting a different look at the game and what to look for.
"I was one of the first active players to do become engaged in the scouting department, sitting in on meetings and asking what they are looking for," said Taylor. "What is new for me is writing reports on what they are looking for, in their style. It's a learning curve for me. But if you ask the scouts they think I have it. I just have to put it on paper."
Taylor said he is learning every day from the scouts, with one of the biggest lessons the importance of getting to the point fast.
"It's about getting to the point," said Taylor. "Doing a presentation to the guys in the scouting department you capture their attention with the first couple of words about a player, whether it's positive or negative. You capture someone's attention when you get to the point right away."