How to watch Iowa State vs. Oklahoma State football game
Oklahoma State vs. Iowa State will showcase two teams grappling with offensive struggles in the Big 12 opener. The Cowboys suffered a humiliating 33-7 loss to South Alabama, managing just 208 yards, an unexpected result given their prior defensive performance against Southeastern Louisiana. Oklahoma State is sticking to a three-quarterback rotation.
Meanwhile, the Cyclones rank as the weakest offense in the Power Five and suffered a 10-7 loss to Ohio. The team has yet to reach 300 yards in any game. Their combined points over the last two games amount to a mere 20.
Both teams recently suffered losses to non-Power Five opponents, creating uncertainty about the outcome of their matchup. Despite this, a victory in this game could propel the Cowboys to a 3-1 and the Cyclones to a 2-2 record before their bye week.
However, establishing a dependable quarterback and a victory here could be important for Oklahoma State.
---
What channel is Oklahoma State vs. Iowa State on?
Viewers can catch the Oklahoma State vs. Iowa State game live on television, as it will be broadcast on Fox Sports 1. Providing commentary will be Dan Hellie and Petros Papadakis.
Additionally, for those who prefer the radio broadcast, KXXY-FM 96.1 will be the go-to station for live coverage.
The matchup can be live-streamed on the Fox Sports App and Fox Sports Live.
Live Stream: fuboTV – (Start Your Free Trial)
How can I watch the Iowa State Cyclones vs. Oklahoma State Cowboys?
The following channels will be broadcasting the game live in the US: ESPN
Watch Iowa State Cyclones vs. Oklahoma State Cowboys live stream on FuboTV (free trial available)
---
When and where is Oklahoma State vs. Iowa State happening?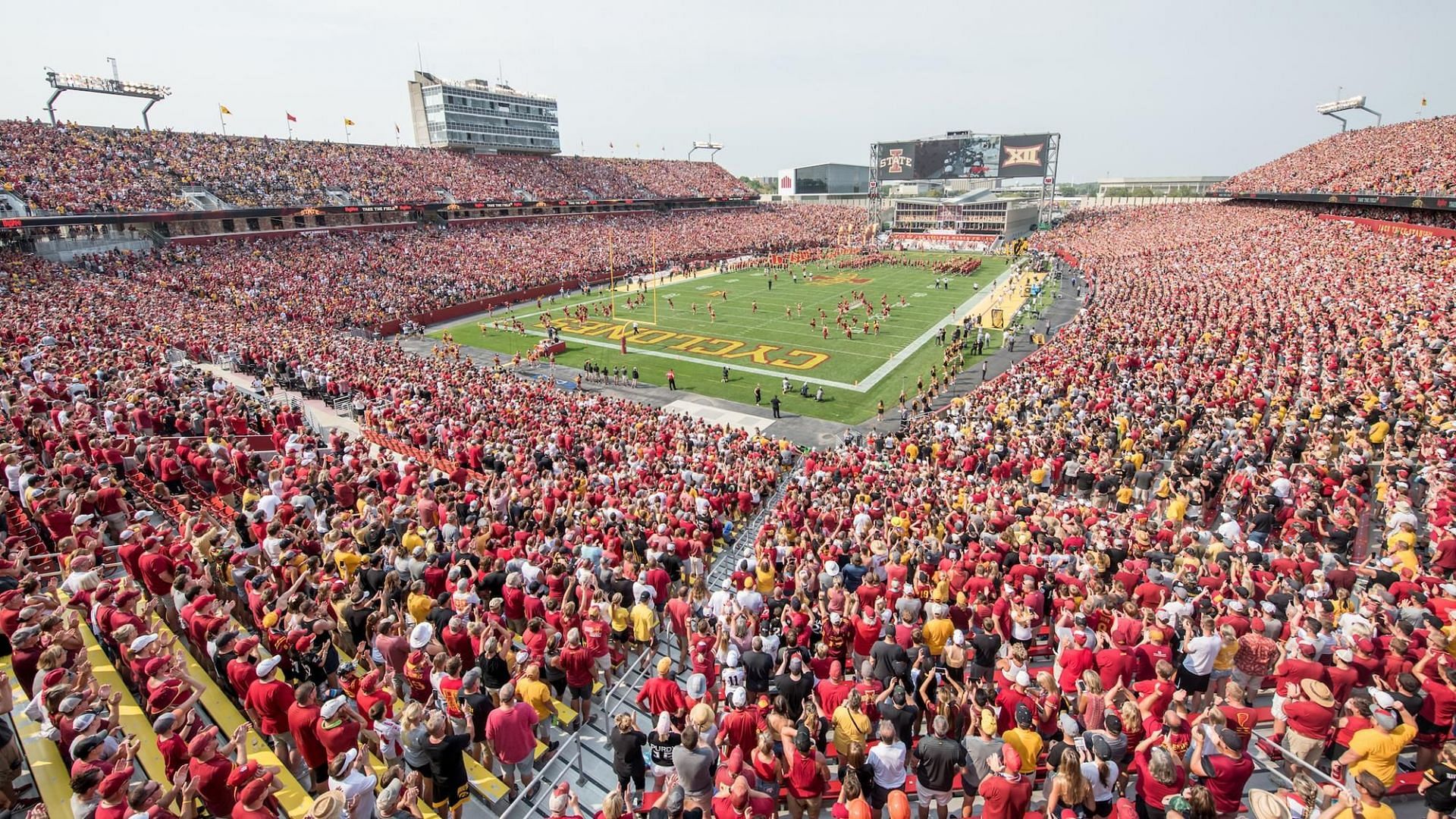 Oklahoma State will play Iowa State on Saturday, Sept. 23, at Jack Trice Stadium in Ames. It is the home stadium of Iowa State.
---
Oklahoma State vs. Iowa State Start Time
The Oklahoma State and Iowa State game is scheduled to commence at approximately 4 p.m. Eastern Time. Weather conditions are expected to be cloudy, with a temperature of 77 degrees. Winds from the SSE at 29 mph are anticipated, and there is a 64% chance of rain.
---
Who will be the starting QB for Iowa State?
Rocco Becht will be the preferred starting QB for Iowa State. Cartevious Norton, who entered the season with high expectations, has faced challenges in the running game, averaging only 3.0 yards per carry and tallying a mere 15 yards against Ohio.
An improved performance from Norton is crucial to alleviating the offensive burden on QB Rocco Becht.
Who will be the starting QB for Oklahoma State?
Oklahoma State remains committed to its unique three-quarterback rotation. Alan Bowman, Gunnar Gundy and Garret Rangel are at the heart of the Cowboys' offensive strategy. These QBs have evenly shared playing time throughout the team's first three games, resulting in remarkably similar statistics.