As two of the most talented teams in the loaded AFC, the Kansas City Chiefs and the Los Angeles Chargers boast strong rosters headlined by big-name stars. Obviously, most eyes will be glued on Patrick Mahomes and Justin Herbert, two dynamic quarterbacks who should be firmly in the mix for MVP honors this season.
However, while the superstar signal-callers will surely provide plenty of exciting moments, the showdown between the reigning AFC champions and their up-and-coming division rival features several high-profile battles that will factor heavily into the outcome of Thursday Night Football.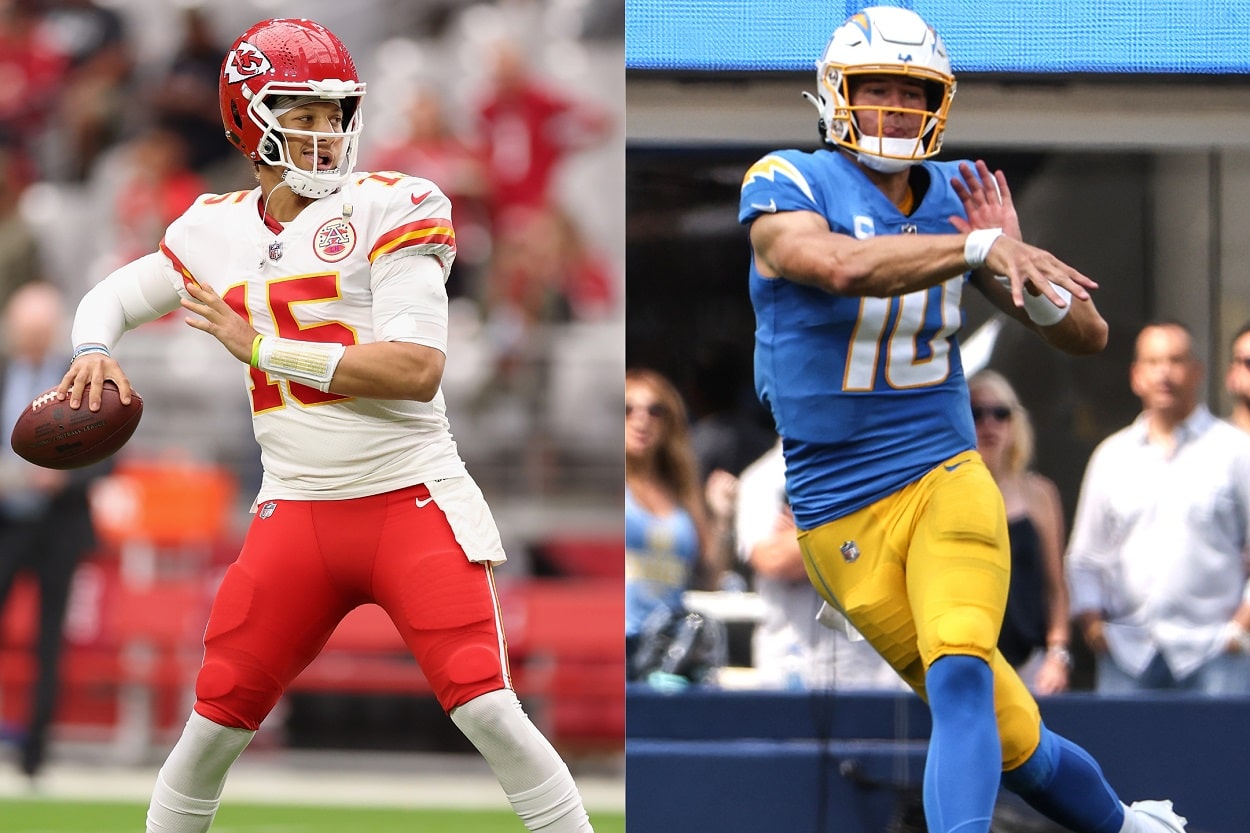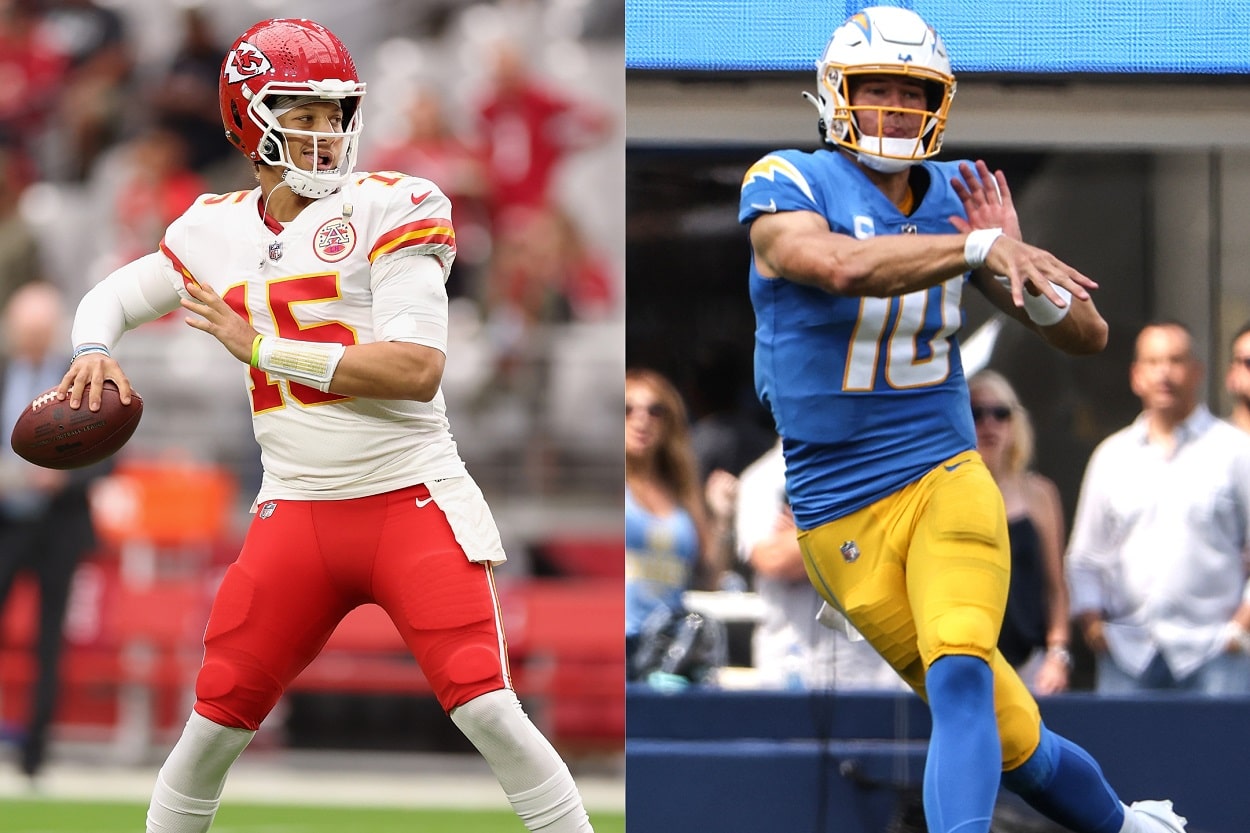 So, who should NFL fans pay close attention to when the Chiefs and Chargers square off at Arrowhead Stadium? Here are five critical matchups that will ultimately swing this week's AFC West-centric edition of TNF.
The cheapest way to stream Chiefs vs. Chargers NFL
| | | Kansas City Chiefs | | Los Angeles Chargers | | |
| --- | --- | --- | --- | --- | --- | --- |
Chiefs LT Orlando Brown vs. Chargers OLB Joey Bosa
Everything begins in the trenches, and the matchup between the Chiefs' offensive tackles and the Chargers' edge rushers looms large in what should be a highly competitive affair featuring two legitimate Super Bowl contenders. While Khalil Mack certainly warrants mention, the battle between Orlando Brown and Joey Bosa is the main attraction.
On one side, you have a 6-foot-8, 363-pound left tackle with plenty of motivation to prove he can handle one of the league's most dominant sack artists. Playing the season on the franchise tag, Brown can put himself in prime position to secure a record-setting contract this spring by keeping Patrick Mahomes out of harm's way. After not allowing a sack in Week 1, though, the towering offensive lineman faces an uphill battle to post another clean sheet.
Bosa, a four-time Pro Bowler with four double-digit sack campaigns on his resume, started his seventh NFL season with a bang. Nick Bosa's older brother recorded 1.5 sacks, two quarterback hits, and one forced fumble in the Chargers' 24-19 win over the Las Vegas Raiders.
If his explosive first step and arsenal of pass-rush moves prove too much for Brown to handle, the game should swing in the Chargers' favor. But if Mahomes' blindside protector keeps Bosa at bay, Andy Reid's team should move to 2-0.
Chargers RG Zion Johnson vs. Chiefs DT Chris Jones
Moving inside, the matchup between one of the league's best defensive tackles and a player making just his second NFL start stands out for several reasons. On the one hand, Chris Jones comes with a well-earned reputation of being a game-wrecking pass rusher who can simply overpower guards and centers. Given his experience and strength, Kansas City's highest-paid defender should have the upper hand heading into Thursday.
Still, it's not as if the Chargers don't have the raw talent at right guard to combat Jones. In fact, considering he went 17th overall in the 2022 NFL Draft, it's evident Zion Johnson possesses the skill set to become a perennial Pro Bowler. A bright, versatile player who lined up at guard and tackle in college, he earned a 54.8 grade from Pro Football Focus in his debut.
If the rookie has trouble handling the battle-tested veteran, Justin Herbert could be in for a tough outing. However, if Johnson wins most of his matchups (even with some help) against Jones, the Chargers should be in good shape.
Chiefs DE Frank Clark vs. Chargers LT Rashawn Slater
Of course, you can't talk about the Chiefs' defensive line without spotlighting Frank Clark. Coming off back-to-back disappointing campaigns, the former Seahawk took a pay cut to stay in Kansas City. And after failing to make much of an impact in Week 1, time is running out for the veteran defensive end to prove his best days aren't behind him.
Can Clark rebound from a quiet season-opening performance that included just one solo tackle? The odds of that don't look great, given who the Chargers have protecting Herbert's blind side. Rashawn Slater earned Pro Bowl honors as a rookie and posted a rock-solid PFF grade of 79.0 against the Raiders last week.
A gifted pass protector who still hasn't reached his ceiling, the 2021 first-round pick can cement his case as the league's best young left tackle by holding Clark to another quiet outing.
Chiefs CB Joshua Williams vs. Chargers WR Mike Williams
With Keenan Allen out of Thursday's game due to a hamstring injury, the onus is on Mike Williams to be Herbert's No. 1 target. The big-bodied receiver doesn't bring the same skill set as his talented teammate, but he does have excellent size and a wide catch radius.
Coming off a career year in which he set personal bests across the board, Williams didn't exactly impress in Week 1 (two catches for 10 yards), so he has plenty of pressure on his shoulders to step up in Week 2.
How will the Chiefs defend the 6-foot-4, 218-pound wideout? With rookie first-round pick Trent McDuffie poised to miss the game due to an injury, don't be surprised if fellow first-year player Joshua Williams sees a heavy uptick in snaps.
Tipping the scales at 6-foot-3, 193 pounds, the fourth-rounder has the length to do battle with Mike Williams. However, does he have the technique, awareness, and ball skills to slow down a wideout who's known for making tough contested catches?
Ultimately, with McDuffie and Allen out, the Williams showdown will be interesting to watch.
Chargers S Derwin James vs. Chiefs TE Travis Kelce
Talk about a battle between two blue-chippers. With Tyreek Hill catching passes from Tua Tagovailoa, the Chiefs' passing game runs through Travis Kelce more than ever. And during Kansas City's convincing win over the Arizona Cardinals, the veteran tight end showed why he should earn a bust in Canton one day.
But after hauling in eight receptions for 121 yards and a touchdown, can Kelce continue staking his claim as the best pass-catching tight end in NFL history?
That depends on how Chargers head coach Brandon Staley deploys his most talented defensive player. Superstar safety Derwin James brings the rare ability to cover receivers, tight ends, and running backs, so it would make sense to use him against the ultra-productive Kelce.
If the two Pro Bowlers square off, it'll be fascinating to see if Mahomes can consistently connect with his No. 1 target. For the Chargers, this game is exactly the reason you signed James to a four-year, $76.5 million contract extension.